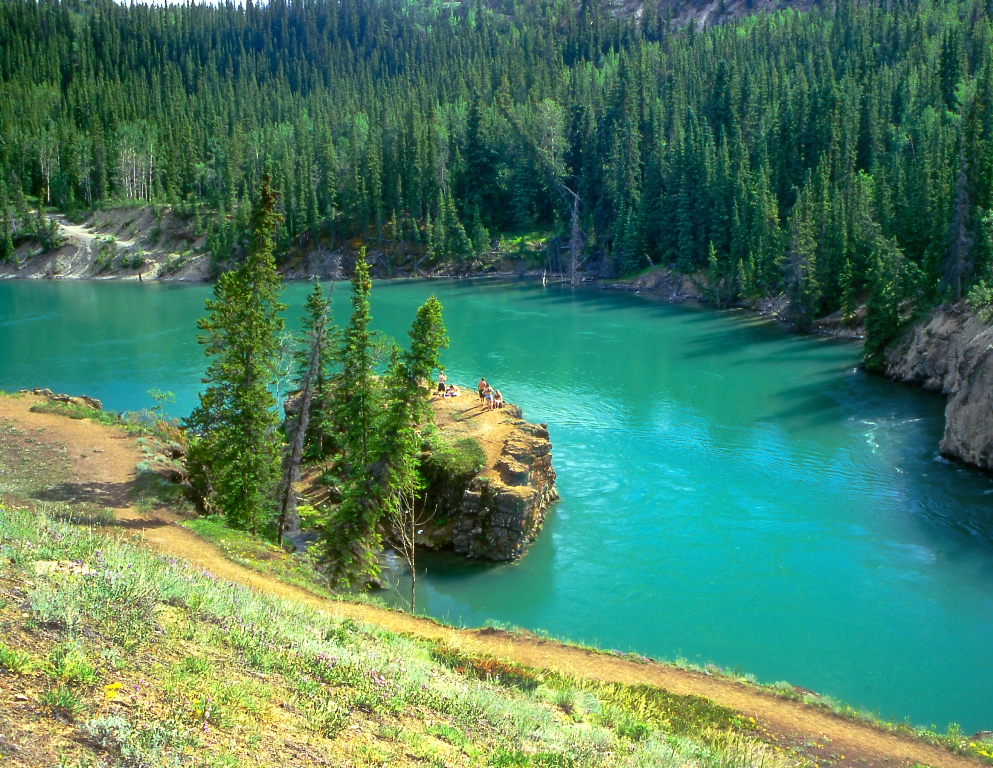 A once-treacherous stretch of white-water rapids, Whitehorse was named due to the resemblance of the flowy manes of charging white stallions. Just south of the present city, stampeders bypassed these waters by way of the Trail of '98. Known as the White Horse Rapids, the waters were considered the ultimate peril for those traveling the area. In 1958, a hydroelectric dam was constructed, taming Miles Canyon and leaving Schwatka Lake in its place.
In 1897, at the height of the gold rush, two entrepreneurial minds saw the potential for money to be made due to the obstacles the rushing waters presented. They built tramways on both sides of the river and, for a payment, the horse-drawn trams would carry supplies, small boats, and passengers around the treacherous waters via rails made of logs. A tiny town popped up at the head of the east bank known as Canyon City. A roadhouse saloon gave gold seekers a place to stay and food and drink.
Canyon City continued to grow, offering rail connecting services for river traffic to nearby Dawson City. Construction of a railway starting in Skagway to just east of the rapids began in 1900. By 1920, the first airplane had landed and, in 1942, army personnel descended upon the region to build the now famous Alaska Highway. In under nine months, over 1500 miles of roadway was constructed. By the end of World War II, the growth had ceased, but Whitehorse was by then a hub for communications and transport. Whitehorse became an incorporated city in 1950, and became Yukon Territory's capital in 1953 when the status was transferred from Dawson City.
The rushing white water rapids of The White Horse have certainly calmed since its humble beginnings in 1898, but visitors today will see a mix of modern and historic as they ride the railway between Whitehorse and Skagway or take part in any of the local events throughout the year. Whitehorse Who Where What tours are available daily from 7:00 am to 11:00 pm, typically take 2 to 2 ½ hours depending on local traffic, and cost about $52 per person. Groups of six or more are offered on a prorated basis.