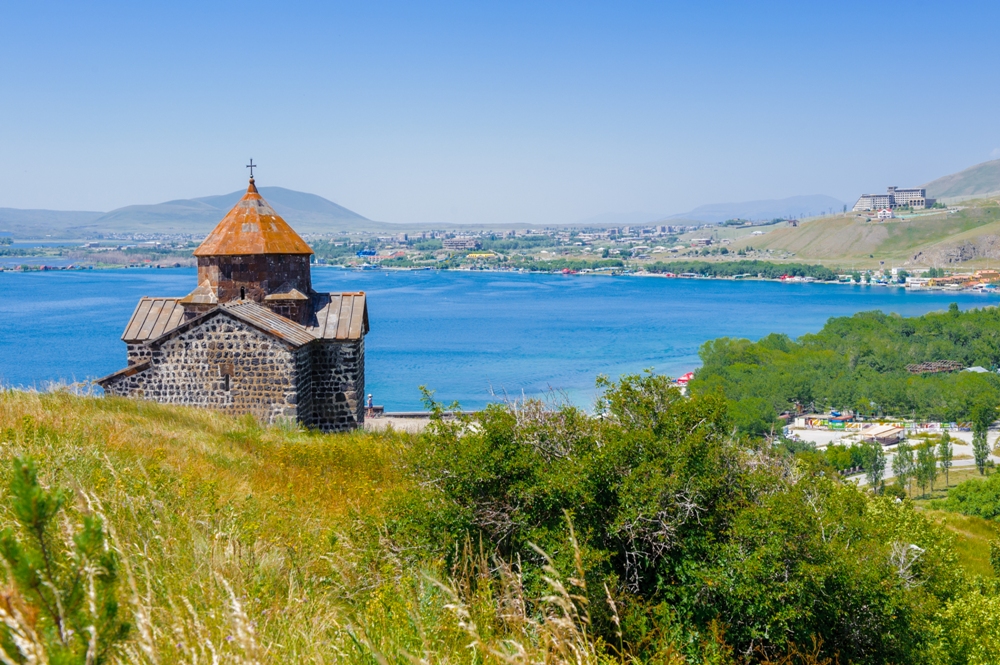 Armenia's diversity of experience and landscape is incredible, and the sheer number of things to see and do within such a small country is unbelievable; for instance, you can hike Mount Ararat, through canyons, explore the ruins of temples, and admire churches that were carved out of the sides of mountains. One of Armenia's greatest attributes is that it is not a country that most people choose to tour, meaning you won't find too many places where you have to fight through the crowds – that is, unless you go to Lake Sevan on a warm summer day. That's where you'll meet all the locals!
Lake Sevan is Armenia's biggest lake, known locally as the Armenian Sea. It's also among the world's highest lakes, situated at over 6000 feet. Lake Sevan is located in eastern Armenia, and its turquoise waters provide a breathtaking contrast against the backdrop of the sandy brown mountains in the distance. Armenians spend their summers here, even though due to its altitude the lake's climate is much cooler than other regions in the country by more about fifteen degrees.
Another place to explore is the Sevanavank Monastery. The monastery was originally comprised of three church, though only two survive today. King Ashot I's daughter, Princess Mariam, commissioned the construction of the monastery. The two churches, though having been built in 874 AD, have been preserved to perfection thanks to the preservation efforts of the Armenian peoples. When the monastery was first built, the level of Lake Sevan was a lot higher, and the entire monastery was on an island. In the 1900s, the locals drained the lake artificially, lowering the level of Lake Sevan by over sixty feet. Today you can reach the monastery by a short hike, rather than by boat.
The stone that was quarried to build the monastery was brought in from the mountains that are visible in the distance. The sandy, reddish-pink-brown color matches, as it does throughout the country, as the majority of buildings are all built from the same stone. It creates a flawless blending of modernity with nature, as the landscapes all blend in perfection.