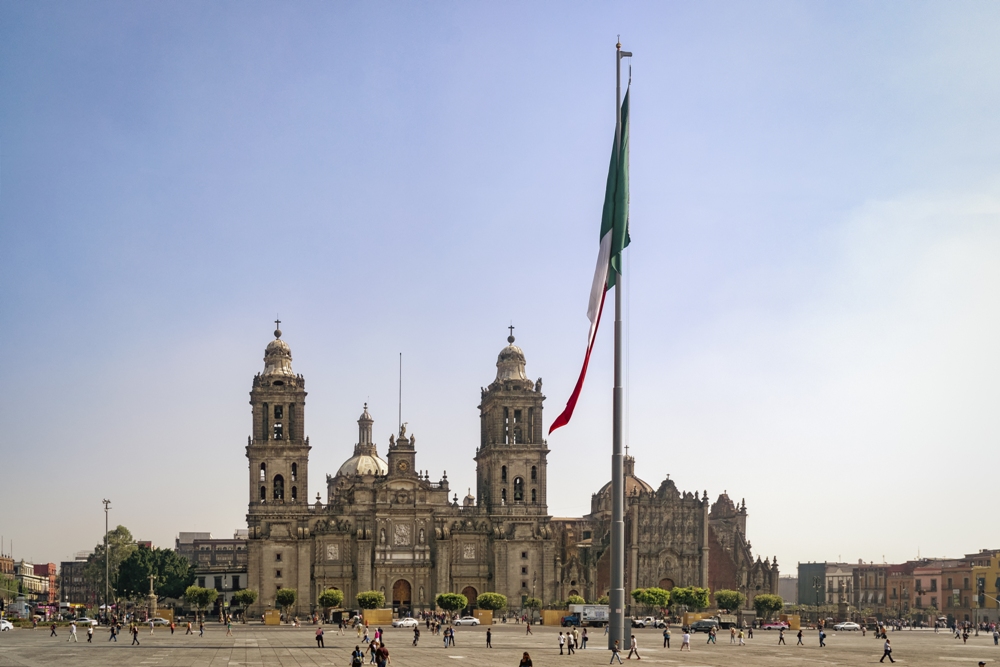 Located in the central portion of Mexico City is Constitution Plaza, better known by the locals as the Zócalo. Zócalo means 'base' in Spanish, which is what the plaza literally is: a base from which the locals gather. The reason, however, that they call this space the Zócalo is that it was meant to be utilized for the building of a monument commemorating the Mexicans' independence. Shortly after the base was constructed, the plans fell through leaving just the 'base' in the center of the square. The square, which is more of a rectangle, is 660 feet wide by 720 feet long, making it one of the biggest city squares in the world.
Tenochtitlan, the Aztec's ceremonial crux, lies just to the northeast. When Cortes found the ruins of the Aztec empire, he used the ruins' stones to pave the Zócalo in the early 16th century. In the 1700s, the plaza was used as a marketplace with several merchants selling various wares. General Santa Anna disapproved of the city's square being used in this manner, however, and forbid the practice, dismantling all of the shops. He then placed the base of what was to be the monument to their independence in the center.
Today's Zócalo is the home of the Mexican government. At the square's east is Palacio Nacional, the home of the president of Mexico. Catedral Metropolitana is on the north end, with governmental offices taking up the southern portion. Extravagant jewelry stores and high-end boutiques and hotels line the west side of the plaza.
In the past, protests against the Mexican government have occurred in the square, as have concerts of various performers. The square has been used to recreate a chessboard with human pieces, to display altars for annual Dia de los Muertos celebrations, and has even been frozen over as a rink for ice skating. Perhaps the most unique use of the Zócalo occurred in May of 2007 when Spencer Tunick, a photographer, populated the town square with nearly 20,000 naked Mexicans for a majestic photo shoot.