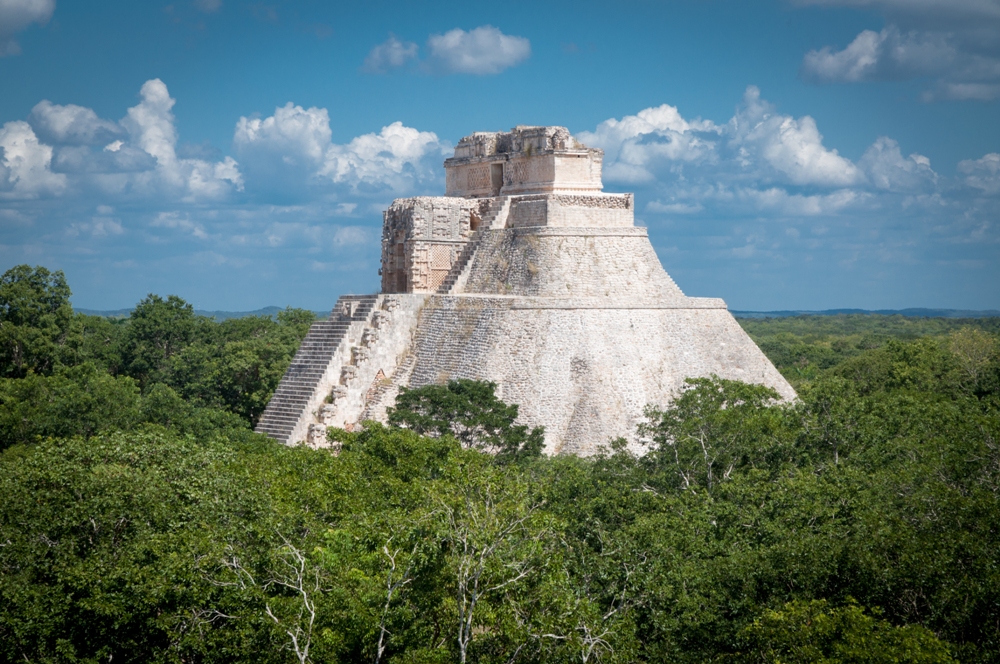 The Mayan culture is world famous for its innovation, ingenuity, and sheer greatness. Uxmal, located along the Ruta de Puuc, is perhaps one of the ultimate shows of this culture's amazing feats.
The name Uxmal, derived from Oxmal, means "three times built" in the Mayan language. It is so named because of the tallest structure at the site, the Pyramid of the Magician, because the structure was built atop existing pyramids – five total construction stages have been discovered.
At the height of the period, more than 20,000 Mayans called Uxmal home, making this one of the Ruta de Puuc's most inhabited cities. This and other sites along the Puuc were at their grandest between 600 and 900 AD, before becoming overtaken by other neighboring peoples. The Mayan peoples used sacbes (white roads) to connect their buildings and sites, and there are several sacbes in Uxmal that connect to other neighboring settlements, Sayil, Labna, and Kabah, suggesting that Uxmal's rulers also presided over these areas.
In Mayan sites, it has been discovered that they utilized several different methods of architecture combined to build their various buildings; however, it is notable that these sites located along the Puuc are distinctly one architectural style that is entirely Mayan and easily identifiable. Modest are the bottom portions of buildings (a simple concrete core), with round corners and small entryways. Upper portions (veneer stones cut, shaped, and set into the core) are extensively decorated, distinctly reflecting layers of stonework. Carvings were ornately created utilizing latticework, serpents, and grand pillars. The length of time it must have taken to design these buildings is staggering alone – add to it the fact that Uxmal and the surrounding settlements did not have onsite fresh water sources, and you have a truly magnificent feat. Thus, Chac, the God of Rain in Mayan culture, was honored extensively in the artwork and construction at Uxmal.
Tours occur daily. Be aware that in addition to the Yucatan State Tax, you are also required to pay a Ruin Tax implemented by the state for entrance to the ruins.