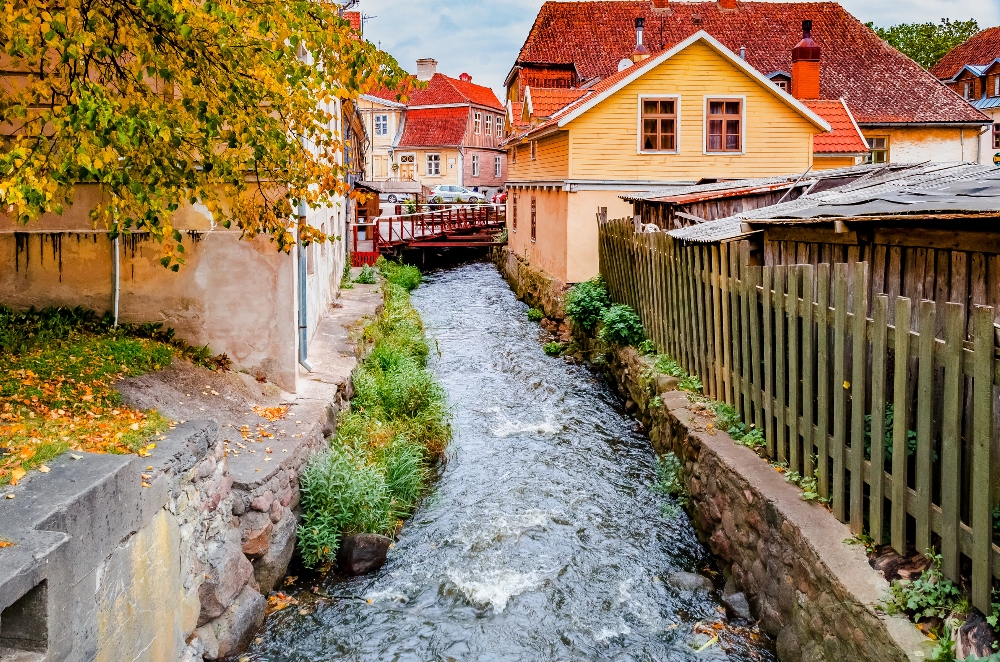 Kuldiga was nicknamed The North's Venice, and for good reason – as the world has busied and grown around it, Kuldiga has remained preserved architecturally amid lush green and blue landscapes. Its unique blend of flowing waters and historical architecture has placed it on the UNESCO World Heritage Site list.
Kuldiga's heyday came in the 1600s when it was part of Kurzeme Province. The center of town has several structures of Baroque style, such as Kuldiga Town Hall. A short distance away, the town's timber-framed homes have been restored to period style along the cozy cobblestoned streets, babbling brooks, and greenscapes.
Along Kuldiga's Ventas River, take a stroll on the brick bridge that was built in the 1800s and take in the breathtaking sight of the widest waterfall in Europe, the Ventas Rumba. The waterfall is over 330 feet wide with a height of just over six feet. You can also view the waterfall from anywhere along either side of the Ventas River.
The arched bridge is nearly 500 feet long and has seven arches through its span. At the time of its building, it was one of the most ornately decorated bridges in Latvia, as well as one of Europe's most modern. It has been used by the Kuldigan people since 1874, but it was built according to standards of the time. The bridge's width was an achievement concerning bridge construction: its width allowed for opposing carriages to safely pass each other. It was renovated in 1926, but the masons used concrete to reinforce the remaining bricks. In the late 50s, the cobblestone road that leads to the bridge was repaved with asphalt; however, the traditional lampposts that dot the lane were refurbished in 2005. The bridge is famous locally for many reasons, some of which include its inclusion in several of the country's films.
Paying homage to the river's 'flying fish', the lampposts that lit the bridge were ornately carved into the shape of fish. Every spring and fall, you'll see why: the fish of the river attempt to span the waterfall, creating the sight of Kuldiga's famous flying fish.