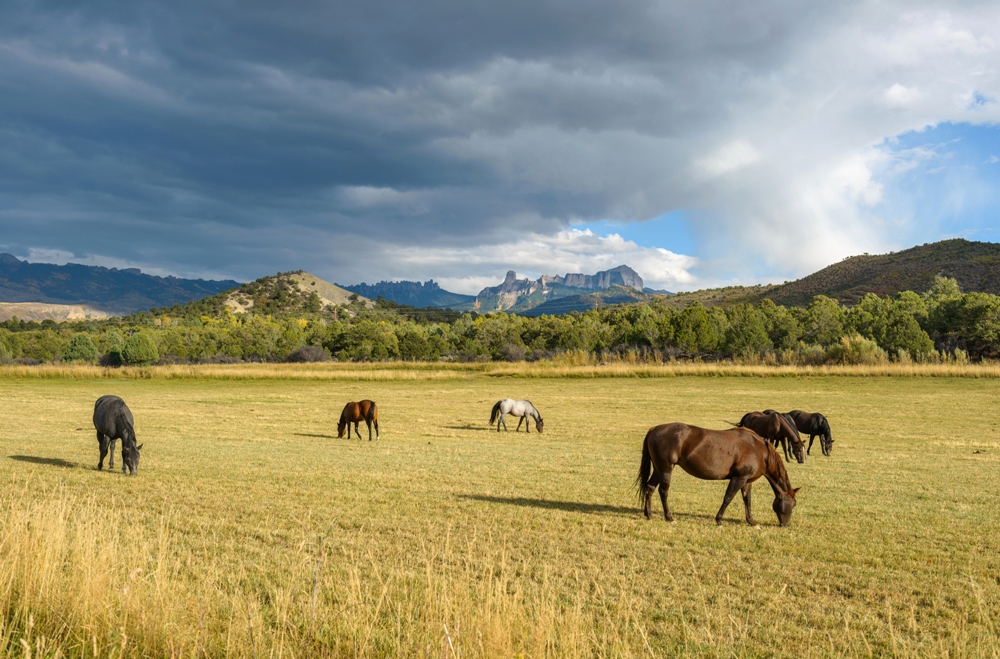 A Unique Outdoor Experience in Colorado. Located in Mosca, Colorado the Zapata Ranch has had the honor of being featured in several high-profile magazines, including  CondeNast Traveler and has also been highlighted on multiple television programs. Owned by The Nature Conservancy and managed by Ranchlands, the Ranch's high desert grasslands, alpine forests, wetlands, and lush meadows offer one of the most scenic and ecologically diverse working ranches in the United States.
Opportunities exists throughout the year to immerse yourself in the day-to-day life on a real, working ranch, In addition, guests get to experience the outdoors under wide open skies.  Guests at the Ranch have the opportunity to choose from a wide range of programs onsite or take advantage of nearby locations that allow guests to immerse themselves in the surrounding area. From hands-on ranching experiences to fly fishing, wildlife watching, birding and rock climbing there is something for every member of your traveling party. All of the programs and experiences are customizable and are designed to be made up of a variety of the programs listed below.
Horseback Experiences. Ride, work and drive cattle, ride through the bison herd, and explore the Sand Dunes National Park while learning to improve horsemanship and riding skills.
Ranching Experiences. Designed for those interested in experiencing the full range of a rancher's daily work. With this experience guests are invited to join ranch cowboys as they monitor herd health, check and fix the fence, irrigate farmland, assess pasture conditions, and perform any number of other activities required on a working ranch.
Nature Experiences. This experience is designed those who want to learn about the majestic surroundings in Colorado's San Luis Valley. The staff can organize hikes into the adjacent Great Sand Dunes National Park, the Medano meadows, or outings to one of the many lakes that dot the ranch and the nearby mountains if guest wish to explore.
Guided Naturalist and Birding Tours. These half-day or whole day guided tours are available at no extra cost to guests and a great way to learn about the San Luis Valley and local ecology.
There are additional programs available in addition to those listed. To learn more about all that the Ranch has to offer, go to zranch.org.