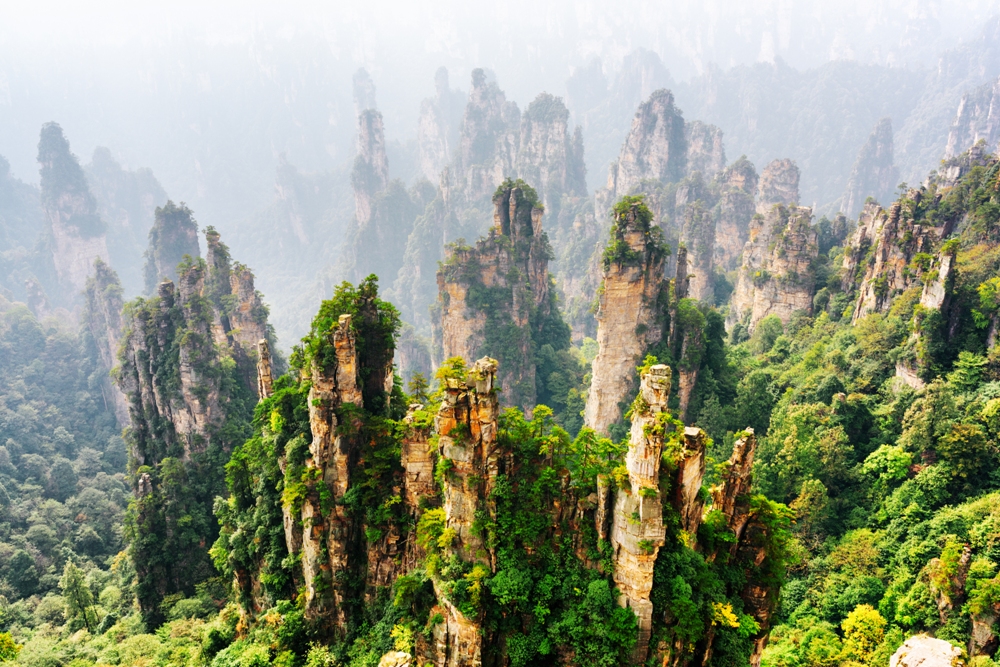 In the northwest portion of Wulingyuan, Tianzi Mountain Nature Reserve looks like a forest of stone, straight out of a prehistoric movie – rocky pillar-like mountains that jut towards the sky, trees clinging in odd places, and mist drifting about as though you were high in the clouds. With the highest peak topping out at 4,130 feet above sea level, you might feel as though you truly are in the clouds! Attractions abound throughout the park, such as peaks Imperial Writing Brush and Fairy Maid Scattering Flowers, and even a farmer's cottage in what seems like mid-air. Bridges through rocky forests, waterfalls, and several caves can be found throughout the reserve. The beauty and unique experiences available in this amazing destination await you.
One of the coolest things about Tianzi is that the landscapes can vary depending on the season in which you visit, and sometimes in a single day! The misty clouds after a rainfall add an air of mystery to the region. There are four main wonders, as they are referred to by locals, within Tianzi reserve. They give these wonders simple names, but the reality is much greater. Clouds are ever changing, and you'll never see the same spot the same way twice. Dawn and dusk in the region are much like viewing a painting that you can walk around in. Finally, the snow in winter enchants the scenery that much more.
The park is divided into five zones with more than ten scenic arenas; in fact, over 80 of nature's platforms allow for grand viewing of the region, some of the highlights of which are the Immortal Bridge, the aptly named West Sea Stone Forest, and the Divine Shrine. For those who are not inclined to hike the reserve, you can also visit the various peaks via a cable car.
There are unspoken legends surrounding the park's region. For instance, one of the many shrines within the park has been known to give visitors an eerie feeling. The sounds of war drums can be heard, neighing of horses, and shouts from men echo up the steep rock faces – but there is no one there. Some say it is the ancients of the region, locked forever in time in a fierce battle scene, but no one really knows why. For this reason, the entire Shentang Valley was considered forbidden for several hundreds of years.