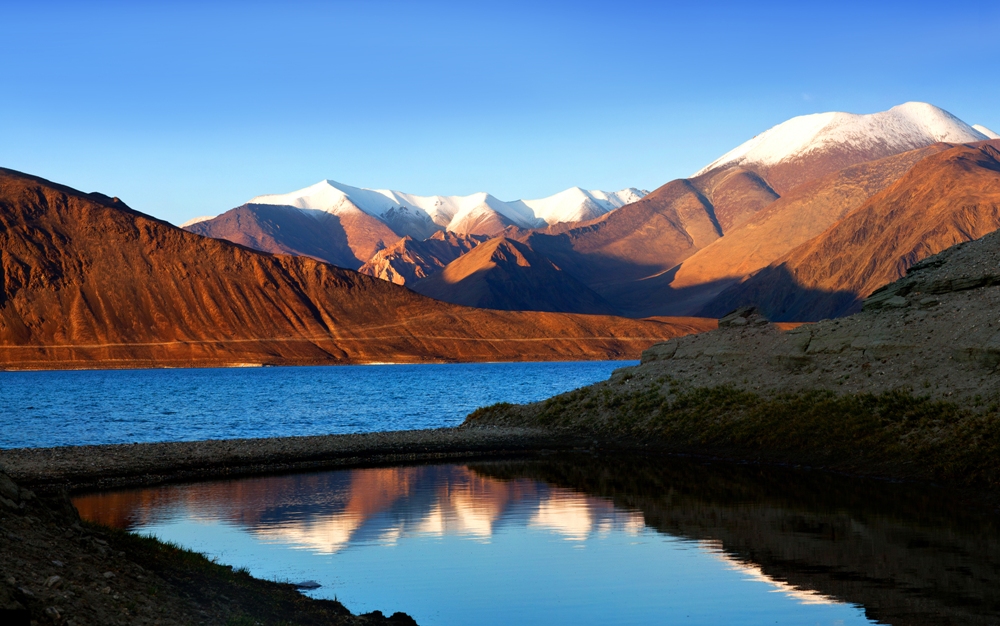 Pangong Lake is a body of water located at a level of 14,000 feet, high in the Himalayan mountains. It is about 83 miles long and extends from China to India. In fact, one third of the lake is under Indian protection, and the other two thirds are protected by China. This body of water is one of India's most popular tourist attractions. The Indian government is in the process of identifying the lake as a wetland, which will make it the first lake to become a trans-boundary wetland in South Asia.
One of the most enduring facets of Pangong Lake is its constant changing of colors. A rather short five-hour drive from the province of Leh will bring you to Pangong. The journey is half the fun. You'll pass through Ladakh and traverse over the Chang La, one of the highest, yet still drivable, mountain passes in the world. From your vantage point as you drive down to Pangong, your senses will be arrested by the sheer beauty of the aquamarine to royal blue colored waters.
As your eyes take in the fullness of the area, you'll spot various indigenous and migratory birds, among them cranes and seagulls.
The lake's body resides on what is known as Sino Indian Line of Control, meaning that to visit here you must have permission from Inner Line. Because the lake is controlled by two separate countries, it is important that you only visit up to the border of the country in which you are visiting. The Spangmik Village is generally accepted as this border.
Winters in this region are quite harsh, and it is not suggested to visit during this time. In winter, the lake freezes over, which is actually quite extraordinary as the lake is a saltwater lake. Spring and summer are the greatest times to visit, keeping in mind that the overall climate here can still become rather chilly, so packing warmer clothes than you would normally for beach vacations is not a bad idea.
It is recommended to plan your trip in advance, as the Inner Line permit, while it does not have to be purchased in advance (it can be purchased just before), it is noted that these permits are only given to groups of at least three individuals who are with an approved local guide.