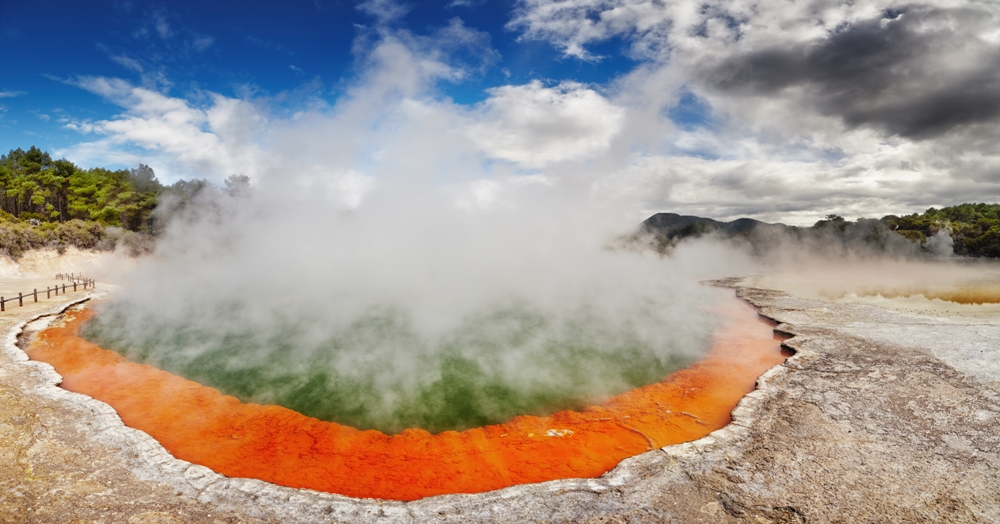 Rotorua is magical.
Streams are clear as crystal and magical forests with amazing biking trails and exploding geysers show just how magical it gets. Whether you seek to simply unwind or you're looking for some thrills, you'll find attractions on Rotorua you won't find anywhere else.
Situated in the Pacific's Rim of Fire, Rotorua is a veritable wonderland, geothermally speaking. Hot, bubbly mud pools, steam clouds, and nature's hot springs afford visitors with bathing relaxation. Marvel at the unique landscapes, the natural activity of a volcano within a geothermally designed park, or indulge yourself in wellness at a luxury spa.
The region is inhabited by the Maori people, a culture that dates back more than 1,000 years. While there is some debate as to the origins of the Maori people, it is generally accepted that they descend from Polynesians who began settling in the region as far back as 3,500 years ago.
The Maori culture is known for its hospitality, and the food is excellent! A hangi feast consists of various foods, normally cooked for some type of special occasion, using heated rocks inside of a pit oven within the ground.
Rotorua is surrounded by nature – mountains, streams, forests, and over fifteen lakes make it the perfect destination for connecting with nature. Mountain biking enthusiasts from all over the world make the trek here to partake of Rotorua's biking trails. Rainbow Springs and Fairy Springs offer the opportunity to see some of the region's largest trout. You are not allowed to catch them here, but in the area's many rivers and tributaries the trout fishing is one of a kind.
If you're a thrillseeker at heart, you'll find the world's highest waterfall here for commercial rafting. There is also bungee jumping, zorbing, and ziplines. If you're traveling with lesser thrill-seeking buddies, however, the wildlife parks of the area offer the chance to say many of the region's indigenous species.
When your stomach lets you know adventure time is over and it's time to fuel up, Eat Street, an outdoor heated dining zone with various foods and vendors, is the perfect spot. You can browse through the various crafter's markets on your way back to your lodging.