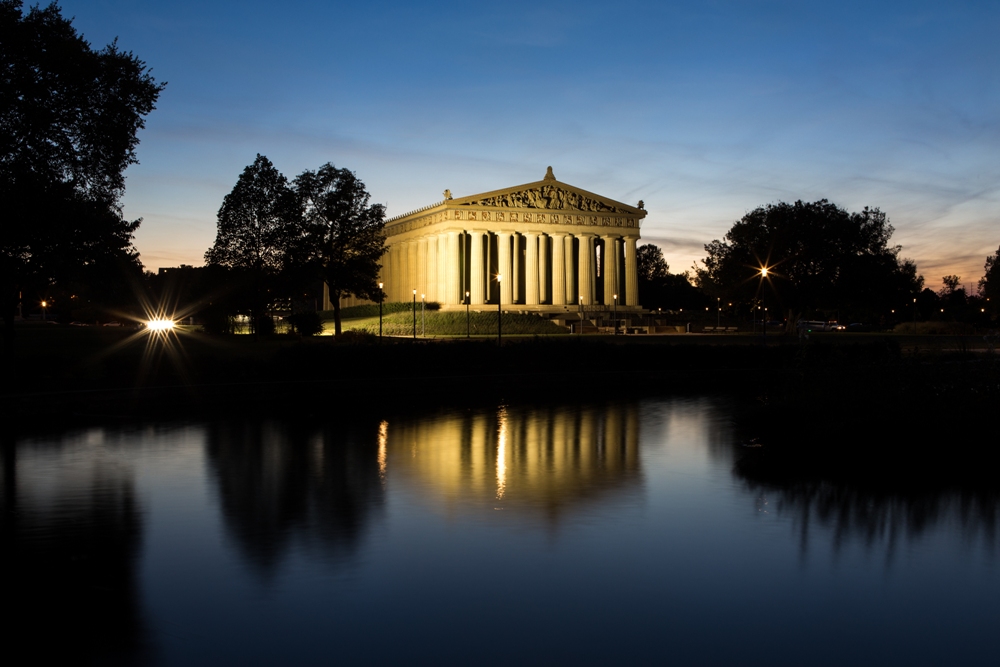 The Parthenon – Nashville, Tennessee – At the heart of Centennial Park in Nashville, The Parthenon stands as the proud centerpiece. And just as in Athens, a forty-two-foot-tall replica of Athena is to where the eye is drawn. Both the building and the statue are exact replicas of the originals, even in size.
This full-scale replica was built as an exhibit for the Nashville Centennial Exposition of 1897, paying homage to what is classically considered the pinnacle of architectural advancements. The original Parthenon's Marbles have been masterfully recreated as direct casts from the original statues, whose decoration of the Parthenon date back as far as 438 BC. The original fragments of these powerful figures can be found at the British Museum of Antiquities in London.
In 1895, the organizers of the Centennial celebrations laid the first stone of what would become the foundation of Nashville's Parthenon. It was the first building constructed for the Centennial Exhibition, and was crafted of wood, brick, and plaster. In 1915, it became more than apparent that the plaster construction would not hold up to nature and the passing of time, and certain portions of the exhibit were removed for safety reasons; however, in 1920, a local architect was hired to begin a complete reconstruction out of concrete so that the Parthenon would survive for many generations to come. In 1982, another local artist was commissioned to recreate the statue of Athena that was found at the original Parthenon site, and in May of 1990, she was unveiled to a baited-breathed public.
Nashville's Parthenon serves as the city's art museum as well. The primary focal point of the exhibits in house is a collection of paintings by American artists from the 1800s and the early 1900s. The remaining spaces within the gallery showcase various exhibits throughout the year.
The Parthenon's hours are Tuesday through Saturday from 9 am to 4:30 pm, Sundays noon to 4:30 pm, and closed on Mondays. If you are a member of the Nashville Arts Association, your admission is free; otherwise, adults are $6 and children 4 through 17 are $4, as are Seniors. You can call 615.862.8431 for more information.