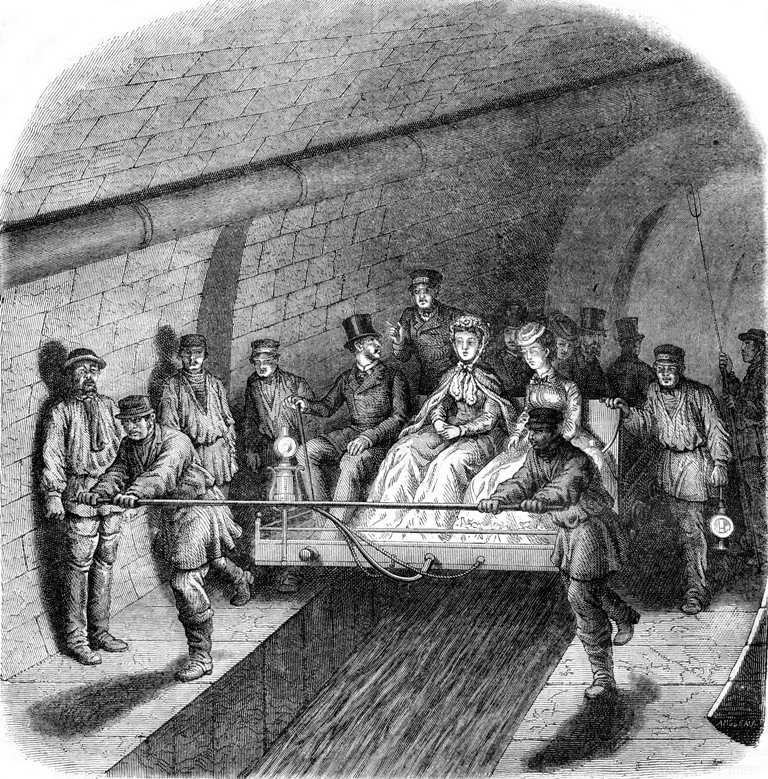 Since the 1200s, sewers have been a staple of Parisian life. It was during this time that King Philippe Auguste ordered the streets to be paved and for a drainage system to be built. Covering these sewers would be introduced during the reign of Bonaparte, and today, the extensive network of over 1300 miles of tunnels reflects even more progress that began in 1850.
These tunnels are made of sandstone and carry drainage from the street's water and also the sewage; however, these sewers are sanitary, as sewage is maintained in separate pipes from the rest of the drainage. Within these tunnels you'll also find the city's water mains, cables for various telecommunications services, tubes used between various post offices, and yes, occasionally, a rat.
Until recently, these tunnels were also a means of public transportation. At first, suspended carts carried passengers along the walls of the tunnel, after that, carriages were introduced that were powered by train, and finally, by boat. These boats were maneuvered by a series of chains that were operated by public works employees.
Now, the carts and the boats are gone. In their place, the Paris Sewer Museum. While it might not be at the top of your vacation destination bucket list, many say this tour is one not to be missed, especially if you are interested in how things work from an engineering standpoint, or if you simply are into quirky or unusual destinations. Finally, if you're a fan of Les Miserables, you'll certainly be inspired by what has transpired below the streets of Paris.
At the ticket office, you'll pay your entry, which for adults 17 and older is €4,30, €3,50 for children 6 to 16, and anyone under five is free. After gaining admittance, you'll descend the stairs and enter an extensive gallery underneath the Quai d'Orsay, running parallel to the River Seine. From here you'll see many of the pipes and even a flushing boat capable of flushing five tons at once near what was at one time the city's main sewage line. At the end of this line, you'll see the basin's solid materials trap, which catches more than 529,000 cubic feet of solid materials each year.
There's much more to be seen, and hours are Sunday through Wednesday 11 am to 5 pm.