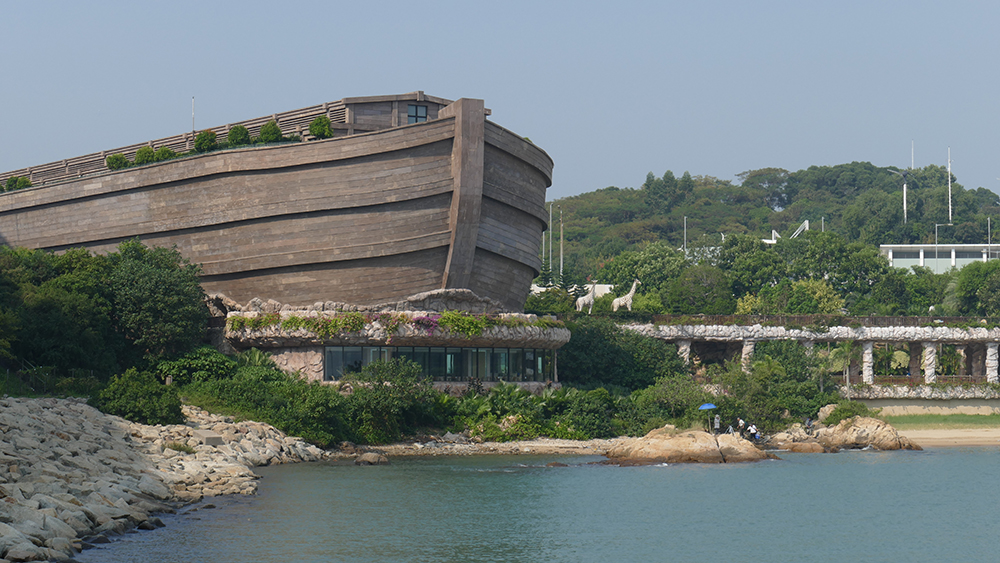 Located in Williamstown, Kentucky, halfway between Cincinnati and Lexington travelers can experience an attraction of biblical proportion. Situated in the beautiful Kentucky countryside is a theme park known as the "Ark Encounter." It is, however, one particular exhibit that makes the park so interesting: a full-size replica of Noah's Ark.
The 510 feet long, 85 feet wide and 51 feet high ark includes an animal zoo and interactive exhibits inside. The recreation of the famous ark cost $100 million dollars to build and claims to be the largest timber frame structure in the world. The exhibit is part of the Christian theme park that includes a literal interpretation of the Bible's Book of Genesis and is located 45 minutes from the Creation Museum. The size of the ark is based on dimensions that were derived from scripture and it believed to be an exact replica of the original.
Ken Ham, the man who leads the ministry Answers in Genesis, claims that they have built the most accurate replica of the ark that has ever been built. The creators have done their best to recreate not only the exterior but the interior experience as well. From a hallway lined with racks of small wooden animal enclosures to the piped in sounds of various animals and waves crashing against the boat. The multiple decks of the exhibit are designed to give visitors the idea of what it was like to have 7,000 animal pairs that would have been on board the ark. They also house a variety of exhibit's, including the Ark Technology display, Noah's living quarters, and even a description of the way in which waste would be removed from the structure.
In addition to the exhibit, the park also houses a petting zoo, zip lines, daily live entertainment, a 900-seat auditorium, and a 1,500-seat restaurant. Tickets start at $40 a day for a single adult ticket and $28 for children ages 5-12. Children under the age of five get in free. Combination ticket prices are available for those who wish to visit the Creation Museum as well. More information about the display can be found online at arkencounter.com.