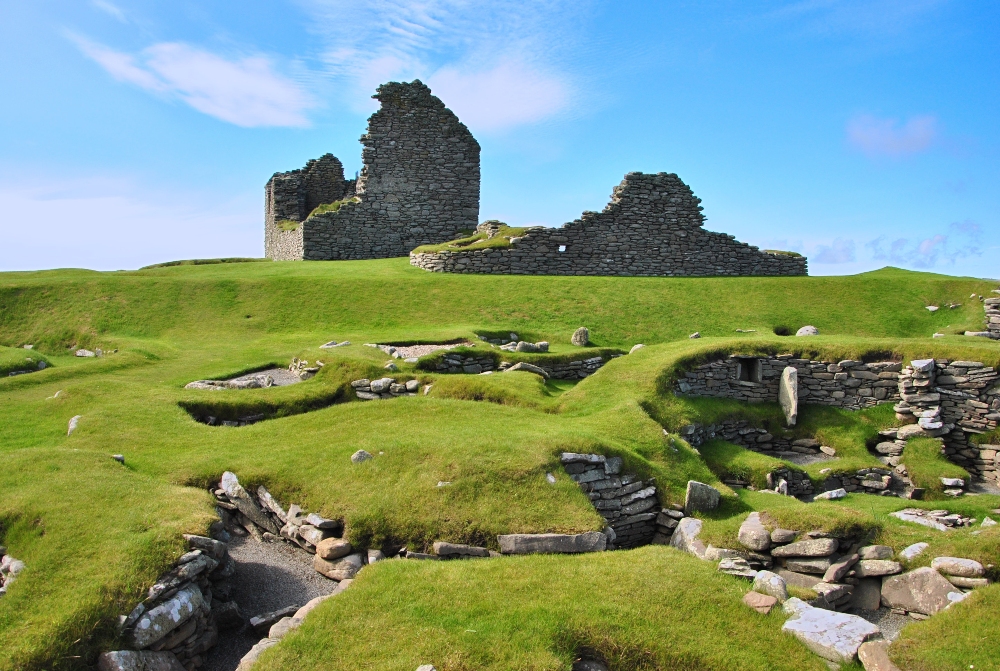 There are tons of destinations around the world that allow you to glimpse into the history of the region; but, there are not very many at all that present its visitors with evidence of the earliest known human activity.
The cape above West Voe's natural harbor was ideal for early settlers, namely those from the Neolithic Era up through the 17th century.
Layer by layer, settlement after settlement was built on this cape. The earliest homes became abandoned, and new ones then built atop the old. Sand from nearby dunes would blow into the settlement, acting as nature's natural sealant, and settled in between settlements, protecting the entire site.
Fantastic storms would eventually reveal the site late 19th century. Excavations the year of discovery, as well as more in the 30s and 50s would reveal this remarkable layering of expertly crafted stone structures that span the entire cape. Of the best preserved is a Norse complex of homes and other structures, as well as a brooch and various wheelhouses from the Iron Age.
The first humans reaching the Shetland region landed not too far from here about 5000 years ago. Remains of Jarlshof's earliest homes can still be seen, and these date back to near 2700 BC.
The remnants from the Bronze Age are substantially more in number and date to around 2000 BC. Some of these remnants include homes with divided living quarters, much the way modern homes have a living room, bedrooms, and a kitchen. The distinctive rooms of these prehistoric homes were made using buttresses. Also discovered was a smithy that had been built near 800 BC within one of these earlier homes.
There was a relatively short period of time between the Bronze and Iron Ages, and near the beginning of the Iron Age, a village came into existence here. These homes were built atop the Bronze settlement. These homes were similar in structure to the Bronze Age homes; however, they were rounder, and all of the rooms in the home were built around a hearth in the middle of the home. These Iron Age homes had much more space because they didn't require the large buttresses.
Tours of this settlement are eye-opening, and provide a glimpse into the lives of our earliest ancestors.