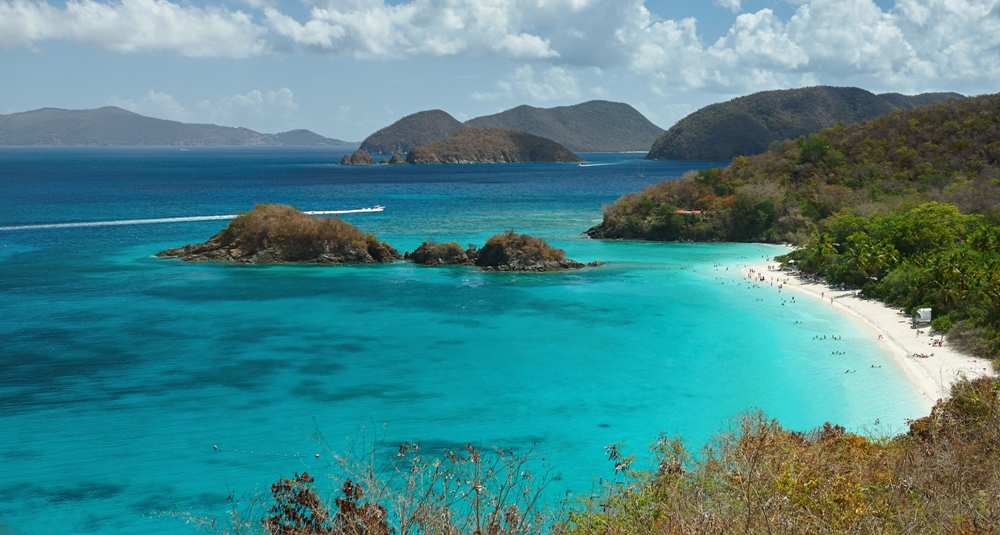 The island of St Thomas is located within the United States Virgin Islands. This paradise is consistently ranked as one of the top ten beaches in the world. If you love greenery and tropical gardenscapes, St Thomas will not disappoint. Here you'll find some of the most gorgeous beaches in the world. You'll see that the locals are more than friendly, and they'll no doubt want to tell you all about the island's vibrant history. This island is the second to largest of the four Virgin Islands, and yet it attracts the most visitors every year.
The beaches of St Thomas are perfect for swimming, snorkeling, or just plain having fun in the sun. Thirty-two square miles of white sandy beaches edge this island, while the interior is an abundance of tropical vegetation, stunning gardens, and beautiful harbors.
Aside from the many beaches (because you're not going to spend all your time on the water, are you?) there are several other not-to-miss aspects of this beautiful island, such as the historic steps that lead to Government Hill. There are 99 steps in all, but don't let that dissuade you, as the panoramic view from the top is breathtaking.
Hotel 1829 offers a bar with a terrace, allowing for a few sips of a rum punch under a palm tree while you take in the view of St. Thomas Harbor.
Depending on the length of your stay, reserving a tour guide is a great option, as there are guided tours around many parts of the island, including Hassel Island, which you'll find in Charlotte Amalie Harbor. Strolling with your guide around Virgin Islands National Park, you'll get to learn about the history of this location while taking in the beautiful surroundings. While in Charlotte Amelie, ask to check out Haagensen House, a restored 19th century home of a Danish banker which now houses arts, such as antiques of the West Indies and Camille Pissaro's paintings.
Like anywhere else, there are certain times of the year when it is best to visit. The yearly average temperature is 88 degrees. September through November brings on the region's rainy season, while the dry season is January through March.