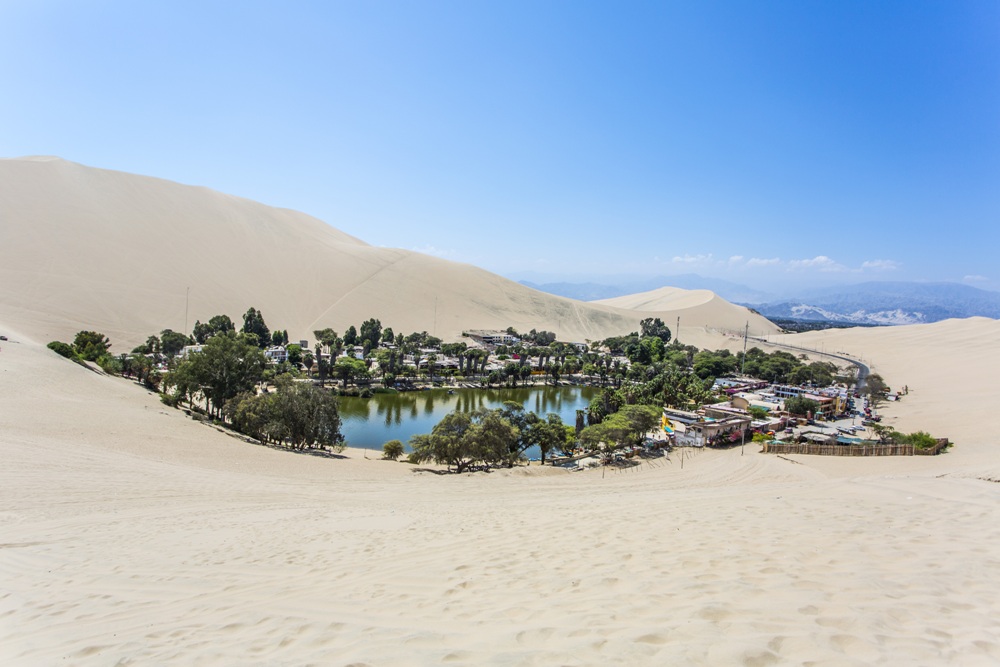 Just a short five-hour drive south of Peru's capital city of Lima is a small, desert town – an oasis – known as Huacachina. Ten minutes from the city center of Ica, you'll see a blue lagoon with palm trees and dunes surrounding it – seem out of place?
For native Peruvians in the 40s, this oasis in the midst of the desert became quite the hotspot for spa getaways. In fact, the waters of the surrounding lagoon were deemed to have natural healing powers. Thus, several hotels were built along the strip of lagoon, complete with streets and a boardwalk.
By the 50s, for whatever reason, it had lost its appeal and for several decades the region was abandoned, considered having lost its appeal for tourists.
In the mid-90s, however, some businessmen put together an idea to offer exploration of the area via four-wheel-drive dune buggies. It didn't take long before visitors realized this was a great option among the already-famous destinations of Peru. The desert surrounding Huacachina is visually stark and stunning and great for photography as well.
The younger Peruvians realized that these large dunes surrounding the tiny city were perfect for boarding – sandboarding – using a snowboard.
These days, both young and old visitors find this place to be a popular destination. The beauty of the desert, the natural oasis, the calm blue waters of the lagoon and the thrilling dune buggies and sandboarding tours offered by various companies in the area. The desert itself is overwhelming and beautiful as is the sweet green in the midst of it all – Huacachina.
Visitors, once in Huacachina, realize that there is much more to do here than just the dune buggies, sandboarding, and relaxing on the beaches of the lagoon. There are also world-famous wineries here offering tours of their land and facilities, as well as various vendors offering flights above the Nazca Lines, and even tours by boat to get a glimpse of the Humboldt penguins, sea lions, and other wildlife in the region.
Huacachina is a beautiful true desert oasis beckoning you to visit.