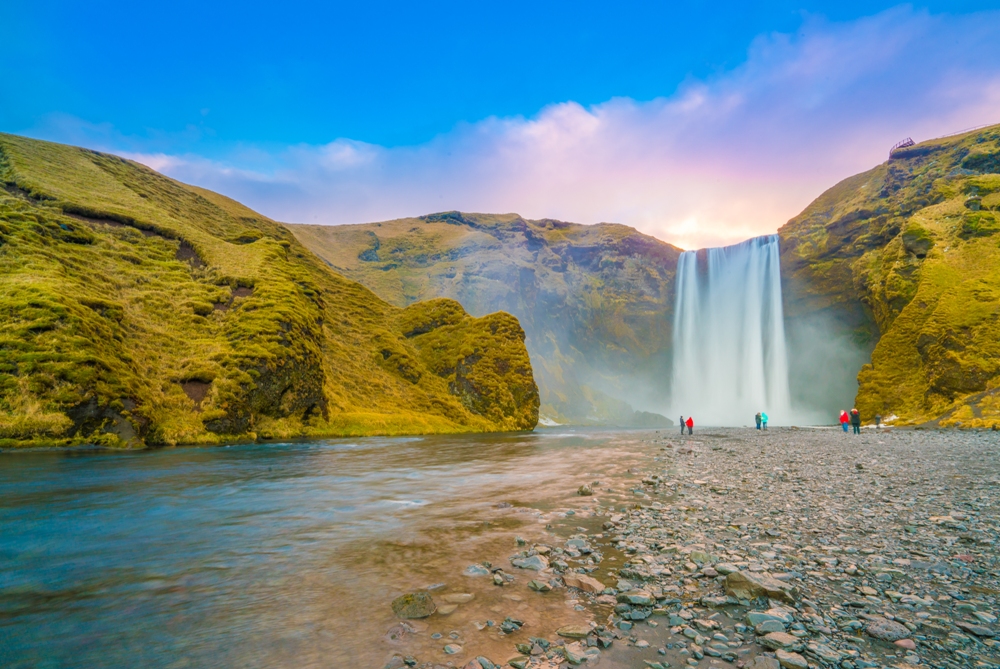 Waterfalls can be found around the world, from tiny trickling cascades to massive walls of water. But Iceland's waterfalls are a sure sight to behold, and Skógafoss is most notable; in fact, it has been called Iceland's most perfect waterfall. It is a true natural wonder. The volume of water is perhaps a bit excessive, but the shape of the waterfall is a perfect rectangle. The 180-foot drop and 75-foot width is more than impressive.
Standing at the base of the falls, you won't stay dry for long! In fact, the spray that continuously is produced by the fall quite frequently creates not just one, but two vibrant rainbows whenever the sun is shining. These are intense, technicolor rainbows, so tied to Skógafoss you could almost reach out and touch them.
While the Skogafoss Waterfall is certainly a highpoint, you'll find that this region of the Skógá River is a veritable smorgasbord of waterfalls. The cliffs over which these falls tumble were formerly sea cliffs along the shores of Skógarfoss, but today this line has moved nearly three miles to the south as the earth has changed. To the east of Skógafoss Waterfall, you'll find paths that lead to Iceland's most impressive hiking trails. Fimmvörðuháls Pass is just one destination to which these trails lead. Once you reach Fimmvörðuháls, you're at the halfway point to the beautiful town of Þórsmörk. Hiking through the moors, you'll lose count of all the waterfalls that adorn the Skógá River. There are actually twenty-two waterfalls along the river and each one seems more captivating than the one before – a veritable feast!
Perhaps the best aspect of these trails to waterfall bliss is the fact that the hiking involved can be accomplished by those of nearly any fitness level. Skógafoss is less than one mile from Iceland's main road, the Ring Road. The mighty Skogafoss Waterfall is quite an experience to behold, making everything else seem completely insignificant. For an added bonus, climb the stairs next to the fall for an impressive view of the Atlantic Ocean.