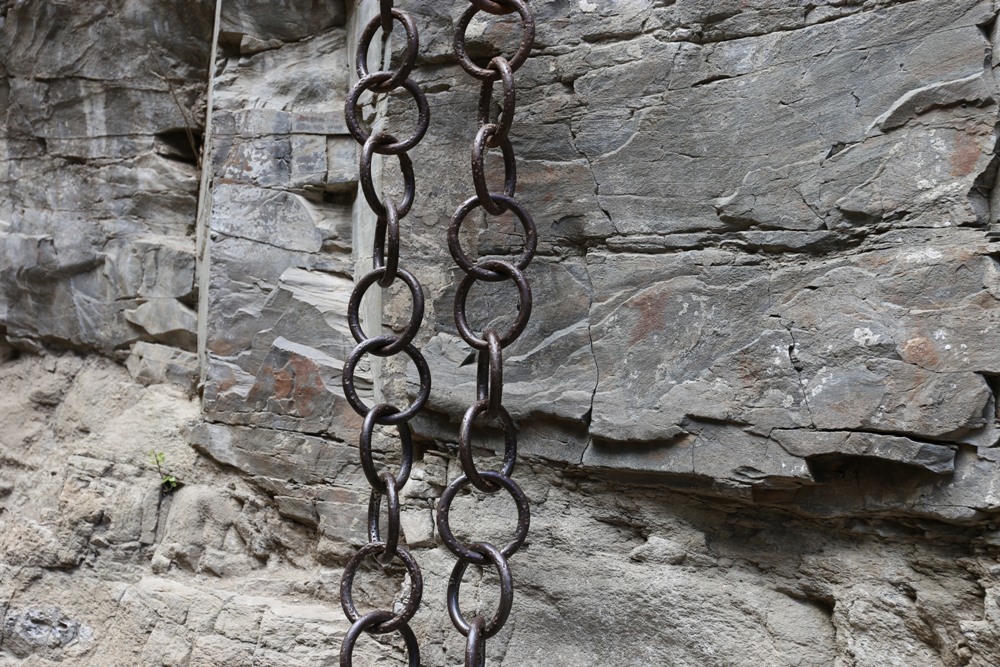 In a narrowing valley on Wilderness Road sets Pineville. A tall cliff and a large rock dangle above. Passersby would always ask about this huge stone, even the local kids would ask, scared that this rock was somehow going to loosen from its perch, roll down, and flatten Pineville. The grownups always told them not to worry, that the rock would never roll down – that it was anchored by a chain.
Actually, they were lying. There wasn't any chain. In fact, a chain wasn't even needed. While the rock looked as though it was barely suspended, in actuality it was part of the cliff.
On a spring day in 1933, some locals were hanging out near the courthouse, discussing town matters. One of the men stated that he was tired of having to lie to his children about a chain being up on that stone, and wished there really was one. Another local man said he knew where they could get a chain that would be big enough to put all these fears to rest once and for all.
These locals recruited assistance from the Boy Scouts, the Kiwanis club, and even the Conservation Corps. They obtained the chain the man had spoken of and began to drag all one hundred feet (and 3000 pounds!) of it up the mountain. They then bolted it to the rock, anchoring it much the way they said it already had been.
It took just over a month to complete the project. A Pineville paper ran the story, the newswires picked it up, creating a national fascination with Chained Rock. To keep the myth going, they erected a plaque next to Chained Rock claiming that this chain had replaced the original – but it hadn't. Doesn't mean visitors don't believe it, though.
Chained Rock is located within Pine Mountain State Park in Pineville. Because it is within a state park, it is always open and admission is always free. While at the state park there are several other things to do, as well, such as camping, kayaking, and water skiing.