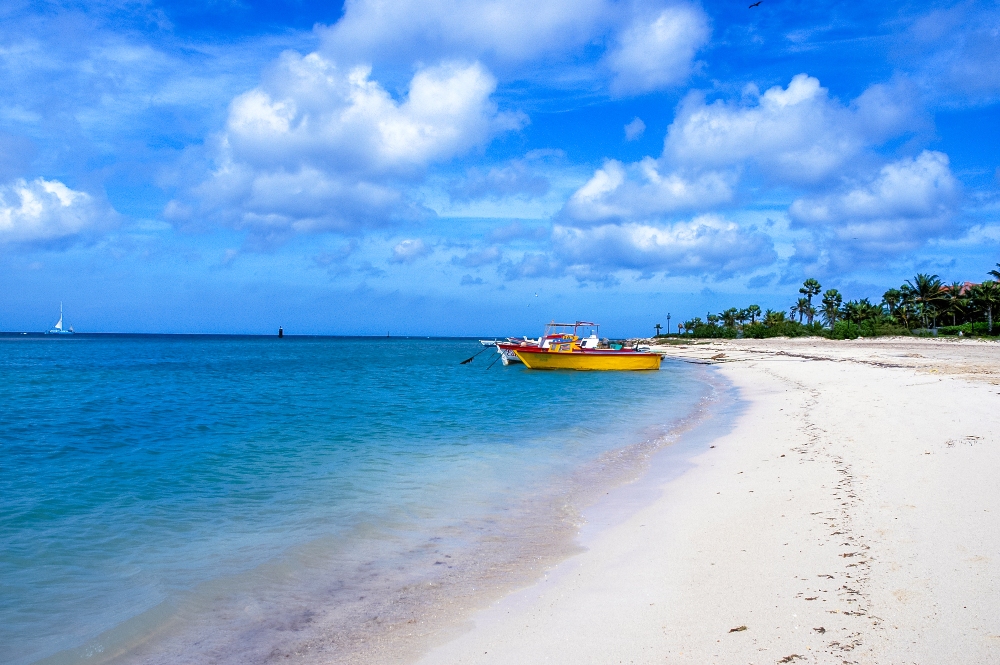 With near-constant temps hovering around 82 degrees Fahrenheit year-round, the island of Aruba is perpetual summer. Even though there's barely any rain to dampen your plans, the number of things to do on this island will hardly fit into just one vacation.
The Alto Vista Chapel sits on the spot where Aruba's very first Catholic church was built in 1750 by Domingo Antonio Silvestre. Silvestre was a missionary sent by the Spanish to bring Catholicism to the natives of the island. Alto Vista Chapel is bright yellow and sits at the end of a long, winding road. All along the road are white crosses meant to signify the different levels of the cross. People enjoy the chapel as a place of contemplation, meditation, and overall peace amongst the countryside.
Also on the chapel's grounds is the Peace Labyrinth, based on the one at Chartres. The labyrinth is set up in quadrants, with various setups around the perimeter which lead to a petal formation in the very center. Modern-day pilgrims utilize the path for prayer and personal growth, and thanks to its simplicity, you can walk the path on your own terms, using your time as prayerful, or meditational, or perhaps simply thoughtful.
The Casibari Rock Formations is just to the north of Hooiberg. The formation consists of large rocks of tonalite situated together uniquely against the backdrop of the typical features of the region. Enigmatically, it rises above the desert landscape creating a most unusual vision. Several of the stones weigh many tons and have peculiar shapes. Aruba's government built pathways throughout the formations which allows hikers to scale the formation, taking in the surrounding views from the very top.
In the middle of the island with Mount Arikok at its center lies Arikok National Park, a nature preserve that houses ancient drawings from the Arawak peoples, as well as walking trails that illustrate the great diversity in animal- and plant life on the island. Within the park you will also find an old cunucu house, built entirely of mud and grasses. The park encompasses nearly 20 percent of the entire island.