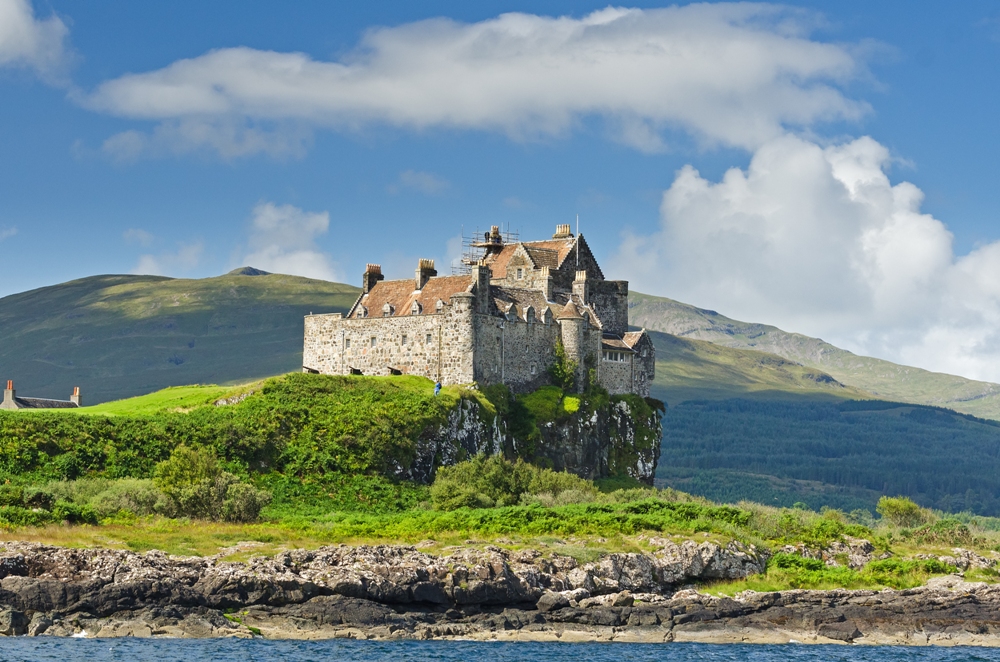 Meaning 'Son of Gillean', named after Gillean the Battle Axe (a warrior from the 1200s), the family name Maclean dates back to the ancient Kings of Dalriada. This clan's lands still remain where they began on Mull Island, Coll Island, Tiree Island, and the Island of Jura.
The Clan Chieftains still also have land in several places on Ireland's mainland, as well as several other minor outlying islands. While many of these residents were god-given the name of Maclean, many may not have actually been related to the Clan themselves, and still others are thought to have taken on the Maclean family name in an effort to seek protection from various clans who were against the mighty Macleans. In fact, not all Macleans spell their name the same; for instance, some are McLean or MacLain; however, this remains unimportant, as the Maclean Clan welcomes all who seek refuge. Many other family names are also related to the Maclean Clan, such as Rankin, who throughout history were known to offer a piper to the clan chief as entertainment. Clan members now live in many parts of the world, and several return year after year to celebrate the birthplace of their namesake.
The first reference to the Macleans and Duart Castle dates back to 1367, when a religious text mentions the marriage of the Maclean Clan's Chief to Mary Macdonald. While many weddings in that day were arranged, it is said that this was one of true love. In order to persuade Mary's father, however, the Clan Chief kidnapped him. It was not a wholly innocent action, and during the skirmish, a Mackinnon Chief perished; however, it was this incident that caused the Maclean Clan to own the majority of Mull, which had been the land of the Mackinnons, and was given to the Macleans as a dowry. Evidence suggests, however, that this bestowing of the Mackinnon land may have been a ransom paid in order to rescue Mary's father.
Throughout the years, Duart Castle changed ownership several times as other clans fought for Duart, won, and then lost when the Macleans fought to regain it. Finally, in 1910, the 26th Clan Chief of the Macleans purchased the castle and began the arduous task of rebuilding the castle that had fallen into such disrepair.
Duart Castle is now open to the public and provides daily tours.