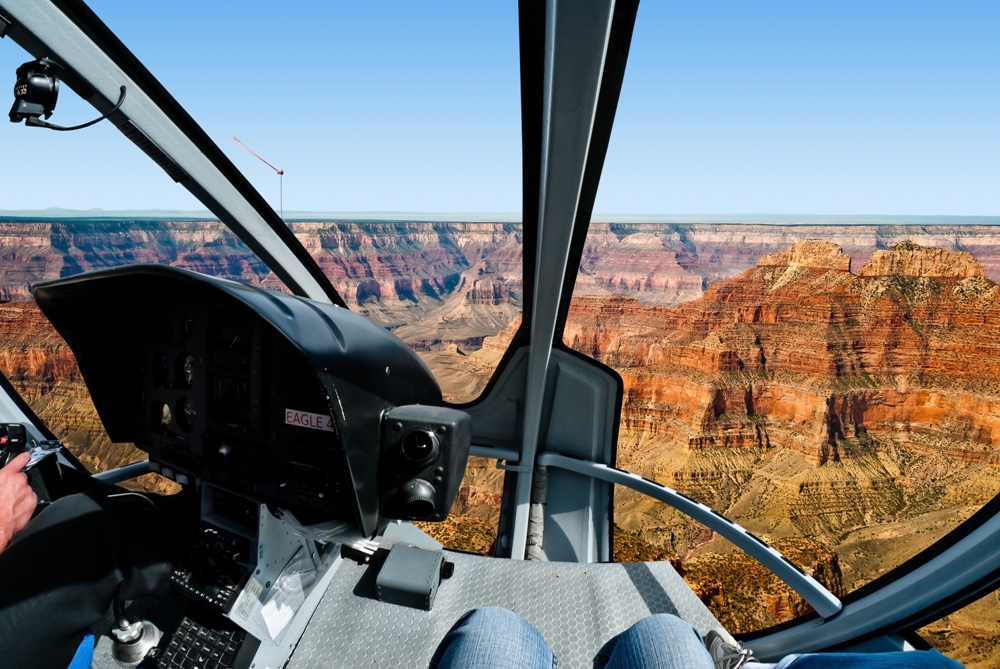 Have you always wanted to visit the Grand Canyon? Maybe the idea of standing on a sheet of glass is not all that appealing to you, or the fact that you cannot take cameras on the glass floor for fears of said floor crumbling beneath you should the glass be shattered. Regardless, the best viewing of the Grand Canyon is done via air. Air tours of the Grand Canyon depart from Tusayan, Arizona and from Las Vegas, Nevada.
Tusayan, Arizona
If you're looking for a tour that is not as crowded and yet is just as appealing, the tours leaving from Tusayan are perfect. The Tusayan tour showcases the South Rim, an area well-known for its beautiful scenery.
You will have the opportunity to choose between a 30-minute or 50-minute air tour. The 30-minute tour will begin by taking you to the North Rim and circling back to view the South Rim. The 50-minute tour will show you both the South- and North Rims; however, this tour adds an extra leg to the flight, allowing you to see the eastern portion of this national legacy and more than 75 percent of the entire park.
Both of these tours allow for an upgrade that includes an excursion by Jeep. This 2-hour ground tour will give ample time to enjoy the South Rim, and you can snap photos to your heart's content.
Las Vegas, Nevada
The only time of the year that you will be hard-pressed to find tours leaving from Vegas to the Grand Canyon is during Christmas, and on Christmas Day there are no tours. Otherwise, this tour will not disappoint. The flight from Vegas to GCNP is superb, with photo ops the entire journey. You'll get to see an aerial view of Lake Mead and the Hoover Dam. Once you land on the West Rim, your scenic flyover awaits. This tour is especially "grand," as there are amazing add-ons, such as a descent via helicopter to the floor of the canyon, as well as a champagne picnic on the canyon's floor or even an epic excursion along the Colorado River by boat.