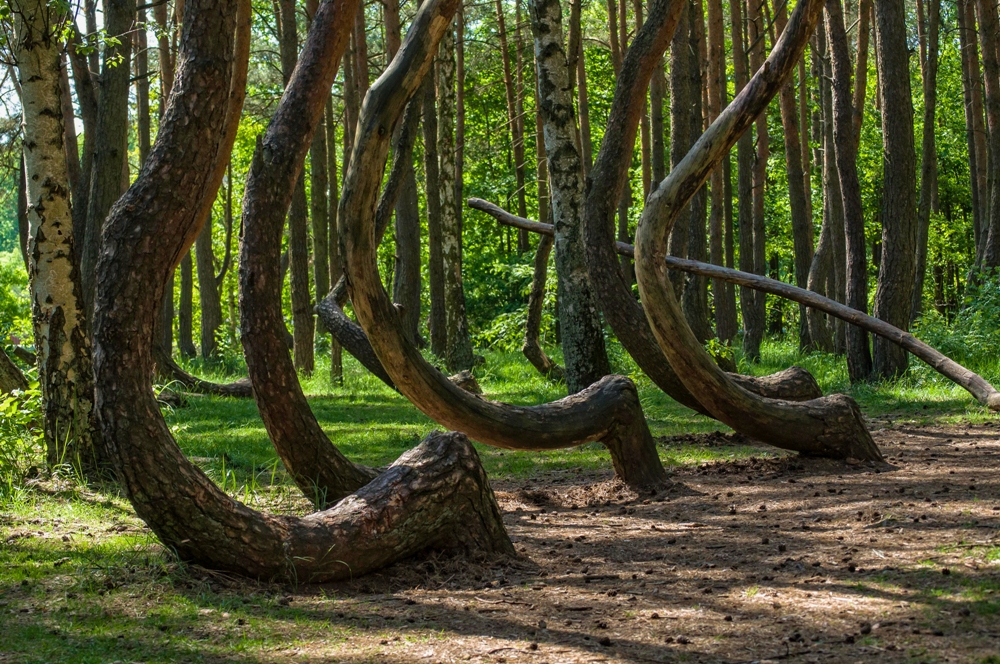 Just outside of the small town of Gryfino, Poland, a strangely eerie forest exists.
A peculiar collection of trees, curved near the base, is aptly name the Crooked Forest. It remains veiled in mystery, even though many theories have been given throughout the years. At the end of the day, no one has the official explanation.
The Crooked Forest is comprised of about 400 conifers that have a bend of 90 degrees at the base, most of which have been bent pointing towards the north. Even more curious, this forest of crooked, bent trees is surrounded by a much larger forest of plain-Jane straight pine trees. It is believed that whomever planted these trees did so in the 30s, and at about the age of 7-10 is when the trees took on their bent shape via whatever force would curve the trunk of a tree.
While several theories abound for what could have caused this curvature, here is a list of some bizarre, if not best, guesses:
Some have proposed that a gravitational anomaly could be responsible; however, because there are no objects in the vicinity that have a mass great enough to cause a gravitational pull to affect just this portion of the forest, this guess has all but been dismissed.
Another theory, a bit more plausible but still unlikely, is that a heavy snow could have sat upon the trees for a length of time while they were still saplings. If there had been a slower melt the following spring, this theory could be a possible explanation to the permanent shape of the trees. However, the surrounding forest does not have this curvature, all but eliminating this theory.
One possible explanation, later dismissed, was that an ancient people bent these trees themselves while still in the sapling stage of growth as a means to point directions, a type of primitive map. When the age of the trees was discovered, this theory was put to rest.
It is not certain that the true origin of the Crooked Forest of Poland will ever be discovered, but it certainly makes for an amazing destination.