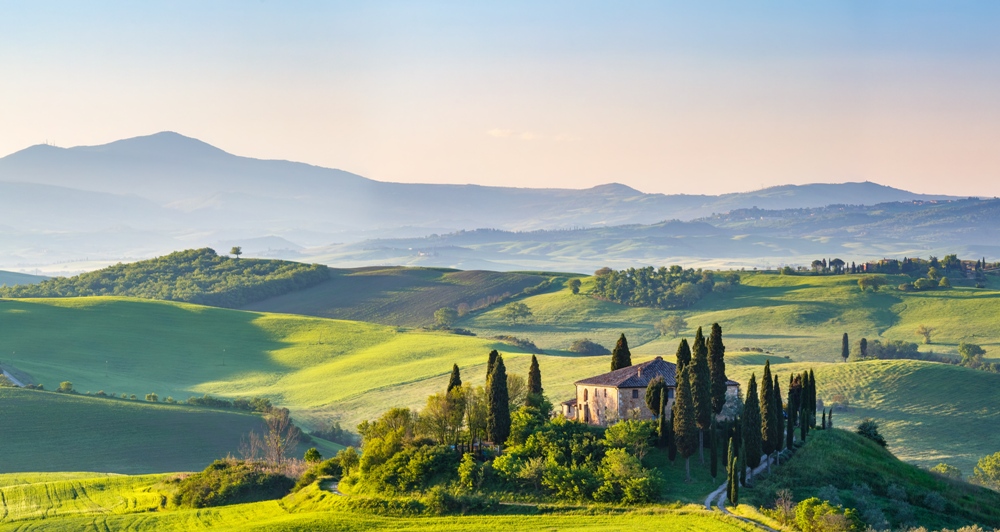 Porrona Village was built around the 1100s, and for five hundred years this region belonged to the two largest Sienese families of nobility, the Tolomeis and the Piccolominis. In 1894, a French noble, Pietro de Rochefort, purchased the village and all of the buildings.
Porrona remains a lovely village that is not inhabited by many locals. Many of the buildings that were unoccupied were bought with their surrounding land to be converted into hotels, not leaving much room for people who would desire to live here.
Castle Porrona's renovations have been ongoing throughout recent decades, but the existing structure's integrity has remained intact. The cultural significance of the region causes respect for the entire property, and great care has gone into the emphasis of authenticity and protecting the structure's medieval spirit.
This Tuscan village is symbolized by Castle Porrona, and the castle now is part of the Castle Porrona Relais and Spa located in the middle of the town's square. It is located in the most beautiful portion of the Maremma, offering unequalled views of the surrounding landscapes and other splendors of Tuscany.
A rare true medieval compound, the castle hotel has five suites, each has a private lavatory, and there are large, elegant common rooms to experience reading a book by the firelight in a castle, or whatever your own personal Tuscan village dreams might be. There is also a private cellar within the castle, a beautiful dining room, and an elegant tower from which views of the Tuscan hills are simply breathtaking. Each room is delightfully decorated, and feature tall vaulted ceilings, views of the countryside, books to read, and all of the modern amenities you have come to expect to make you as comfortable as possible, such as wifi and room service, and even your own private butler.
Castle Porrona is rather centrally located to most all other Tuscan venues you might want to see while you're here. In fact, by car you can be in historically and culturally significant places of interest in just minutes. Siena, Punta Ala, and Florence are places nearby that should be part of your itinerary.
If you seek a truly exclusive vacation, this castle has more than a thousand years of history begging to be explored.