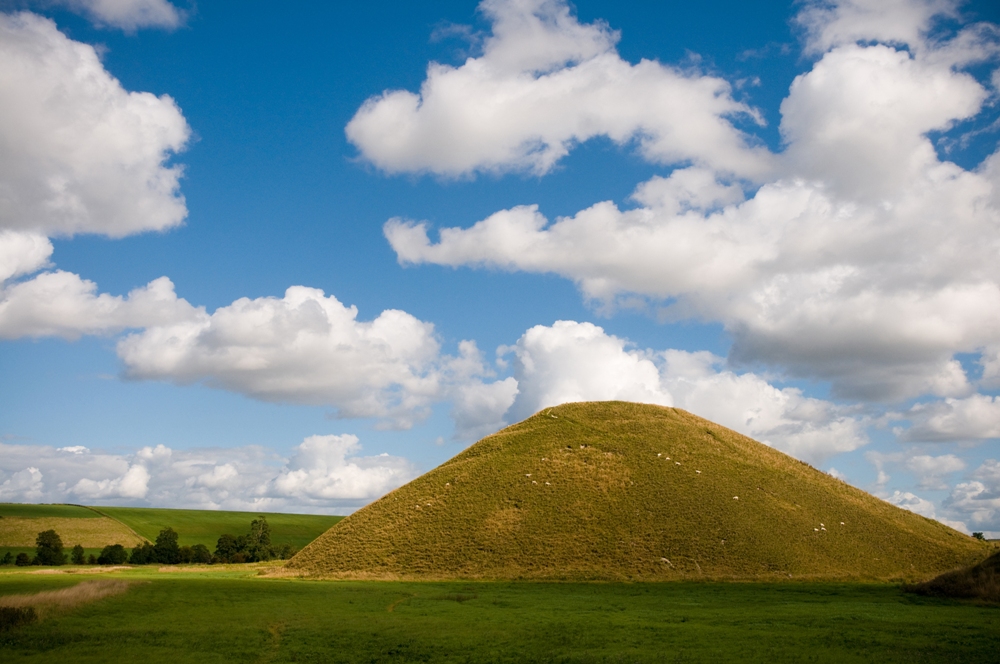 It is unknown what its purpose or meaning may have been to the Neolithic peoples who built this mound, but Silbury Hill remains a most intriguing monument in all of Europe. The mound is the largest prehistoric mound made by man in the region. While both its purpose and meaning may escape us for now, there are many legends that have arose over time, inspired by the human desire to discover.
Silbury Hill is nearly 100-feet-tall, and over 520-feet-wide. Its entire construction is thought to have entailed approximately four million man-hours to complete. Nearly one billion pounds of material, most of which is chalk, were used in its creation.
The mound that is visible today was not created in one singular endeavor, but instead was added upon, changed, and yet more added, over many generations of this people. It has been considered that, whatever the mound's use or purpose, that perhaps peoples from neighboring villages or lands also came here with a sole purpose of delivering their own chalks and soils as a means of illustrating the oneness of all races. As time passed, the builders became even more ambitious, and large quantities of soil and chalk were dug out from the ditch surrounding the mound to add to the mound itself.
From excavations and research at the mound site, it has been established that first the topsoil and pebbles were stripped from the site which were used to build the first mound to a height of approximately three feet. Some of these first materials could also have been brought from the river nearby.
At another stage, they set to broaden the mound and placed stakes to cordon the area – fifty-two-feet in diameter. They brought in and dumped loads of mud and darker soils. Smaller mounds, also with pits, were created nearby, as well as the addition of a pit in the center of the main mound. It is thought that the entire area was utilized as a place for ceremonial activities.
The mounds show evidence that building was a continuous project lasting nearly a thousand years. While it remains unknown the original purpose of these mounds, it is known that they were constructed during a time when Britain saw many industrious changes, such as new pottery, new means of burial, and the working of metals. Whatever its main use, it remains a mainstay in the Avebury area's World Heritage Site.